Through participation in the sacraments, we encounter Jesus and come to a fuller understanding of the ways in which God's grace is active in our lives.
Catholics celebrate the sacraments together as a Christian community, allowing us to witness, share and support each other in the sacramental life.
INFANT BAPTISM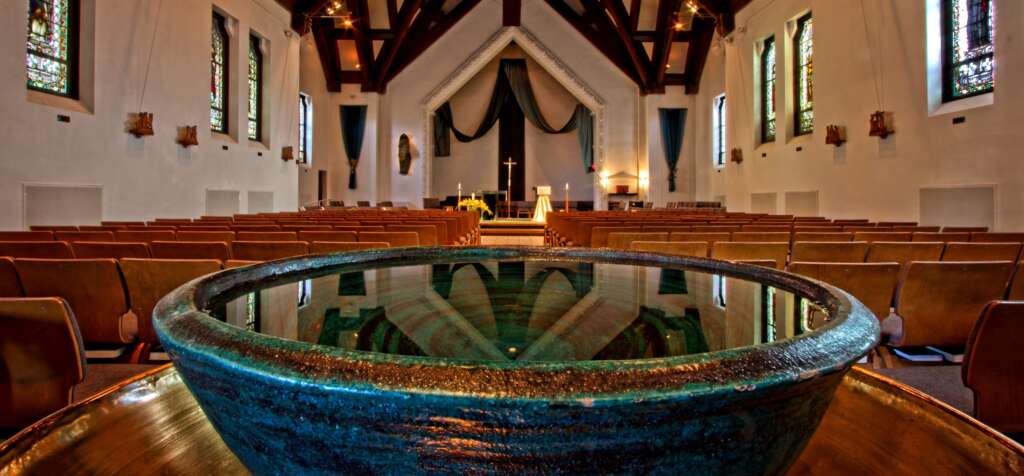 St. Mary Student Parish is grateful for the opportunity to celebrate the miracle of new life and welcome new members into our parish family through the Sacrament of Baptism. Those wishing to have their children baptized at St. Mary Student Parish should be registered members here for at least three months and active, contributing members of the parish.
Baptism class
Baptism preparation class is required  to be taken for your first child.  It does not need to be repeated for additional children. If you've taken the class elsewhere, proof of that will be necessary to schedule a baptism. Classes are on Monday 6:30-7:30 PM. Class dates for 2023 are as follows (subject to change):
July 10
August 7
September 11
October 2
November 6
December 4
If you are able, we ask that you pick up a baptism preparation packet from the Parish Office at least one week prior to the class. The packet contains articles and discussion questions for parents and godparents. During the class there is an opportunity to ask questions and schedule the baptism date.
Please contact 734-663-0557 ext. 0 with any questions or further information.
Godparents
Godparents have a great responsibility in helping to raise your child in the Catholic faith. They should not be chosen simply because they are friends or family, but because they are active members of the Catholic Community who will provide a fine example of faith for your child throughout his or her lifetime.
A person may have only one or two godparents (no more than two); if two are chosen, one must be male and one female.
Godparents must be at least 16 years old, be a Catholic who has received the holy Eucharist and is confirmed. We need a letter from the godparent's Church stating they are a member in good standing. They are also encouraged to take a baptism class.
A baptized person who belongs to another Christian community may be admitted as a "Christian witness" (not a godparent) provided there is a least one Catholic godparent who fulfills the above criteria. A non-baptized person cannot be a witness.
For more information on baptisms in English, contact Carol Konczal
For more information on baptisms in Spanish, contact Rosa Luz Postigo
CHILDREN'S SACRAMENTAL PREPARATION
FIRST RECONCILIATION AND FIRST COMMUNION
We traditionally begin preparation for First Reconciliation and First Communion in 1 st Grade and the children receive the Sacrament in 2nd Grade. Sacramental Preparation is a HOME-BASED Program through the Faith Formation Program that provides opportunity for the children and their families to prepare as per the Church's teaching, "as to understand the mystery of Christ according to their capacity and receive the Body of the Lord with faith and devotion." The Sacrament of First Reconciliation is received in February and First Communion is received in early May.
Please see the Faith Formation page for more information, including registration information.
CONFIRMATION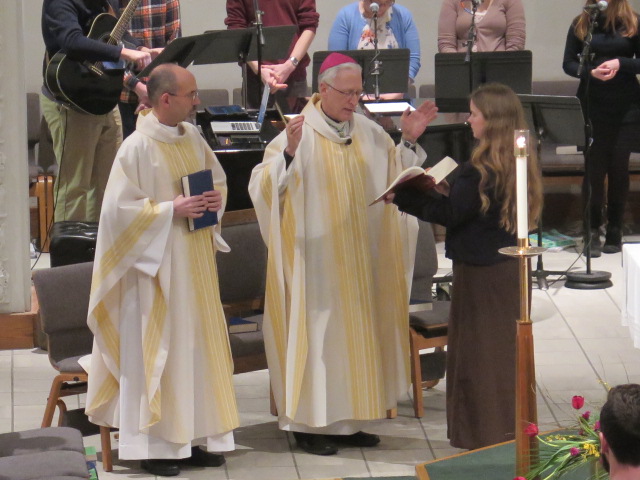 The Sacrament of Confirmation enables the faithful to be sealed with the gift of the Holy Spirit, strengthening them in their Christian life. Teens will have the opportunity to grow in their faith, knowledge and friendship with Christ as they prepare for the Sacrament of Confirmation in the Spring. Please see the Faith Formation page for more information, including registration information.
MARRIAGE
St. Mary Student Parish is happy to help engaged couples prepare for their marriage that they will celebrate here in the parish, or frequently for University of Michigan students back in their home parish. St. Mary requires nine months for this preparation.
To begin your preparation for marriage, contact Julie Mussio at the parish office and make an appointment to come in and speak with a priest. We will review the program guidelines with you, help you set a date, and assist you in being more aware of the gift of the Sacrament of Marriage in the Catholic Faith.
We know that marriage is a significant step in anyone's life, and we are honored to help you celebrate this lifelong commitment to one another in Christ. Whether you're completing your preparation here at St. Mary or elsewhere, you can find more information below:
Revised wedding informational brochure coming soon!
Wedding Couple Info Sheet & Reflection Questions
Marriage Reading Selections
WEDDING MUSIC
Once you have planned your wedding ceremony with a priest or deacon, you should contact the music coordinator. Our music coordinator will help you find a pianist and/or organist, a vocalist, and any other instrumentalists you envision for your big day. The music coordinator will also assist you with the selection of your music to meet both the couple's musical preferences and the sacramental nature of your wedding.
St. Mary has Breaking Bread, Gather 3rd Edition, and Voices as One hymnals as well as other resources for sheet music.
RECONCILIATION
Reconciliation is held weekly at St. Mary Student Parish:
Wednesday 5:45 – 6:45 PM in the church and outside in our courtyard (weather permitting)
We invite you to include the Mass in your Reconciliation visit.
If you are unable to attend our regularly scheduled Reconciliation time, we invite you to please call the Parish Office and make an appointment to come in and speak with a priest. At St. Mary Student Parish, we feel that Lord's healing and forgiveness is one of the greatest gifts we receive as a people of faith. We will do our best to extend the Sacrament of Reconciliation to all who seek it.
Several times during the year – during Advent and Lent, in particular – St. Mary Student Parish will hold communal penance services for the entire parish. At a communal penance service, parishioners and priests from around the area come together for a scripture service and reflection. The congregation is then given the opportunity to meet individually with one of the priests present to participate the Sacrament of Reconciliation.
SPANISH RECONCILIATION
Many of our priests are bilingual and fluent in Spanish. Please call our parish office for more information on reconciliation in Spanish.