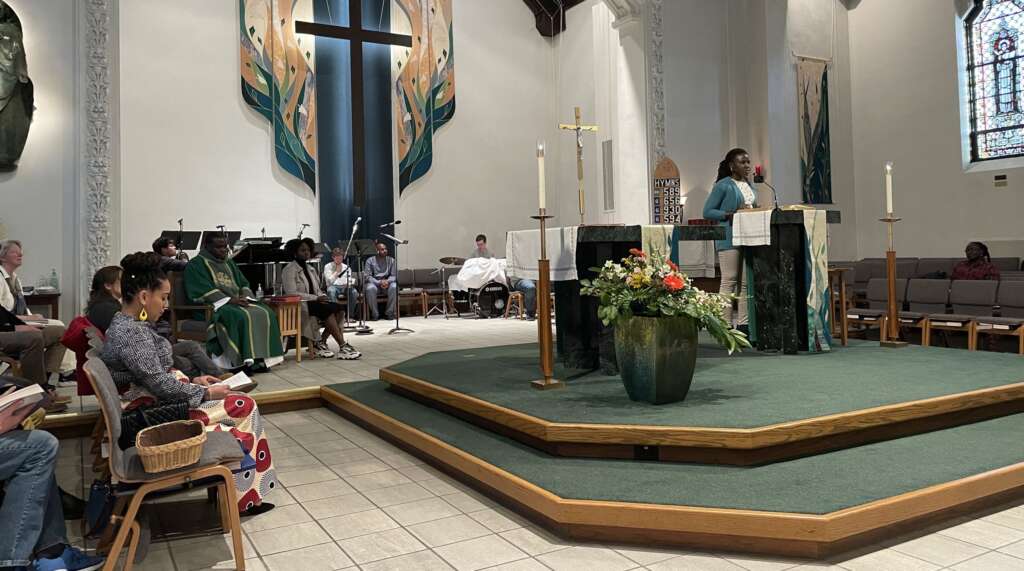 St. Mary Student Parish has a rich liturgical life. Central to our parish is the celebration of the Eucharist. We welcome active participation in our celebration of the Lord's Supper and invite each parish member to become involved in a meaningful way.
There are many Liturgical Ministries to explore: playing a musical instrument, singing in a choir or serving as a cantor, reading the Word of God, being a Eucharistic Minister, ushering, greeting, decorating the church, being a server at Mass.
Click here to log on to the ministry web terminal (including the current schedule)
ALTAR SERVERS
Altar Servers at St. Mary Student Parish assist the priest who is saying Mass. They also prepare the altar for the Eucharist and occasionally help to distribute Communion.
READERS
Readers proclaim the first and second readings during Sunday Mass. Through prayerful preparation, they proclaim God's Word to the St. Mary community.
EUCHARISTIC MINISTERS
Eucharistic Ministers help distribute Holy Communion during the liturgy. At each Mass, two people arrive early to prepare and two people stay late to clean up. This ministry is sign and symbol of our daily call to be Eucharist for one another.
USHERS
Could you be a welcoming face for the people of St. Mary Student Parish? That is the role of our ushers, the people who assist the students, community members, and visitors who come here for Sunday Mass. Ushers help in several ways:
They help our Greeters to welcome people as they arrive and they help with the collection.
They help late-comers find a seat when Mass is crowded.
Most importantly, they let people know that we are a warm and welcoming community of faith.
CHURCH ENVIRONMENT
Help create a prayerful place for all our Masses by preparing our chapel for each liturgical season.
GREETERS
How would you like to be part of the welcoming face of St. Mary Student Parish? Greeters welcome people as they arrive at Mass. They are also available to help answer questions that newcomers may have about St. Mary or simply direct people to where they can get their questions answered.
For information or to sign up for the liturgical opportunities above, please contact Constance Heskia in the parish office.